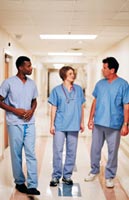 ---
Health Care Aides: "The Eyes, Ears and Hands for the Registered Nurse & LPN" ℠
---
Health Care Aides are people with a kind and caring nature who provide hands-on care as valued members of the health care team. They have strong communication skills, a desire to learn and work with others and, a history of success at school or work. They are dedicated to preserving the dignity of the patient while providing compassionate and competent care.
---
Health Care Aides complete the following tasks as a key member of the health care team:
Implement personal care plans.
Perform delegated tasks.
Assist clients with household management activities.
Assist with child care.
Assist with palliative care.
Maintain personal competence, health, and wellness.
Work safely to ensure the care of self and others.
Function as a nursing team member.
Follow proper infection control procedures.
---
Health Care Aides are individuals who:
Have a kind and caring nature.
Are compassionate.
Have strong communication skills.
Are willing to learn.
Work well in a team environment.
---